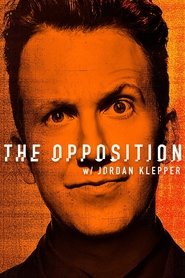 The Opposition with Jordan Klepper
A satire of the hyperbolic, conspiracy-laden noise machine that is the alternative-media landscape on both the right and left.
Episodes: 8
Status: Returning Series
Seasons: 1
All Episodes
You may also like
Marley's Ghosts
Marley has a rare gift that comes with mixed blessings – she can talk to the dead, who sadly now include both her husband Adam, her lover Michael and her vicar… Awkward.

Country:
Genre:
An Idiot Abroad
An Idiot Abroad is a British travel documentary television series broadcast on Sky1 and Science, as well as spin-off books published by Canongate Books, created by Ricky Gervais and Stephen Merchant and starring Karl Pilkington. The ongoing theme of both the television series and the books is that Pilkington has no interest in global travel, so Merchant and Gervais make him travel while they stay in the United Kingdom and monitor his progress.

Country:
Genre:
Lab Rats
Leo is an ordinary teenager who has moved into a high-tech "smart" house with his mother, inventor stepfather and Eddy, the computer that runs the house. Leo's life becomes less ordinary when, one day, he discovers a secret underground lab that houses three experiments: superhuman teenagers. The trio — Adam, the strong one, Bree, the fast one and Chase, the smart one — convinces Leo and his parents to let them leave their lab and join Leo at school, where they try to fit in while having to manage their unpredictable bionic strengths. As Leo figures out a way to keep his new pals' bionic abilities a secret, they help him build self-confidence.

Country:
Genre:
Scream Queens
The super-charged comedy-horror series is a modern take on the classic whodunit with a killer cast. 

Country:
Genre:
Flaked
In his funky California beach enclave, Chip's the go-to guy for personal insights. But he isn't quite as enlightened when it comes to his own baggage.

Country:
Genre:
Missing Nine
Story about an unexpected plane crash that causes a widespread panic in South Korea due to the disappearance of nine people, including some influential figures in the entertainment industry.
Seo Joon O used to be a popular singer, but he isn't popular anymore. Now, he works as a reporter for a TV entertainment show. He and his stylist Ra Bong-Hee land on a deserted island.

Country:
Genre:
Angry Birds Toons
Angry Birds Toons tells how life is not always easy on Piggie Island. Red and angry feathered companions, Chuck, Mathilda, Bomb, Blues and Terence must come together to protect their eggs – and future – of cunning plots of Bad Piggies. Having only guides for their intelligence and determination, they absolutely must thwart the advanced technology Piggies are also incredibly too many. Nevertheless, they have a huge advantage … the incredible stupidity of the Piggies! Angry Birds Toon gives life to characters and adventures of one of the most popular games in history and presents the amusing world, and cunning of Birds and their sworn enemies, the Piggies.

Country:
Genre:
Kim's Convenience
The funny, heartfelt story of The Kims, a Korean-Canadian family, running a convenience store in downtown Toronto. Mr. and Mrs. Kim ('Appa' and 'Umma') immigrated to Toronto in the 80's to set up shop near Regent Park and had two kids, Jung and Janet who are now young adults. However, when Jung was 16, he and Appa had a major falling out involving a physical fight, stolen money and Jung leaving home. Father and son have been estranged since.

Country:
Genre:
Black Dynamite
Black Dynamite is an American animated television series based on the 2009 film of the same name, although the series follows a separate continuity, with some back-references to the film. The series was announced shortly after the release of the film, the 10-minute pilot episode was released on Adult Swim Video on August 8, 2011, and the full series premiered on Cartoon Network's late night programming block, Adult Swim, on July 15, 2012. Michael Jai White, Byron Minns, Tommy Davidson and Kym Whitley reprise their film roles as Black Dynamite, Bullhorn, Cream Corn and Honeybee, respectively.

Country:
Genre:
Vice Principals
Vice Principals tells the story of a high school and the people who almost run it, the vice principals.

Country:
Genre:
Unbreakable Kimmy Schmidt
After 15 years of living in a cult, the unbreakable and wide-eyed Kimmy is rescued along with four other women, causing a national sensation that culminates with an appearance on the "Today" show. Before getting back on the bus to Indiana, however, Kimmy decides it's time to reclaim her life. Armed with just a backpack, light-up sneakers, a couple way-past-due library books and a big wad of rescue-fund cash, she's ready to take on New York City.

Country:
Genre:
Lovesick
After finding out he has an STI, Dylan must get back in touch with every girl he has ever had sex with to let them know the bad news.

Country:
Genre: