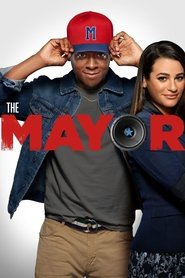 The Mayor
A struggling hip-hop artist runs for mayor to promote his mix-tape and wins.
Episodes: 1
Status: In Production
Seasons: 1
All Episodes
You may also like
Fancy Boy
An unapologetic comedy plucked from the disturbed minds of a distinctive new comedy collective. Made up of five interweaving narratives, Fancy Boy is rooted in dark perspectives, bold premises and unashamed dickheadery.

Country:
Genre:
Younger
Based on the novel by Pamela Redmond Satran, "Younger" follows 40-year old Liza, a suddenly single mother who tries to get back into the working world, only to find it's nearly impossible to start at the bottom at her age. When a chance encounter with a young guy at a bar convinces her she looks younger than she is, Liza tries to pass herself off as 26 – with the help of a makeover, courtesy of her best friend Maggie. Armed with new confidence, she lands a job as an assistant to the temperamental Diana and teams up with her new co-worker and twentysomething Kelsey to make it in the career of her dreams. Now she just has to make sure no one finds out the secret only she and Maggie share.

Country:
Genre:
Twenty Again
Due to an unplanned pregnancy, Ha No Ra married young and dropped out of school. But after two decades as a housewife, she finally gets the chance to experience college, alongside her 20-year-old son Kim Min Soo and his girlfriend Oh Hye Mi. Further complicating things, No Ra already has a strained student-teacher relationship, as her husband Kim Woo Chul and her first love Cha Hyun Suk wind up being her professors.

Country:
Genre:
Cuckoo
Cuckoo is every parent's worst nightmare – a slacker full of outlandish, New Age ideas. Ken is the over-protective father of a girl who's impulsively married an American hippie on her gap year.

Country:
Genre:
Happy Endings
Happy Endings is an American television sitcom that ran on ABC from April 13, 2011 to May 3, 2013. The show follows the dysfunctional adventures of six best friends living in Chicago.

Country:
Genre:
White Famous
Floyd Mooney is a young African-American comedian whose star is on the rise. But the path to stardom is a minefield that Floyd must navigate to maintain his credibility while attempting to become "white famous."

Country:
Genre:
Better Off Ted
Better Off Ted is an American satirical situation comedy series, created by Victor Fresco, who also served as the show's Executive Producer. The series ran on the ABC network from March 18, 2009 to January 26, 2010.
Better Off Ted focuses on the protagonist, Ted Crisp, a single father and the well-respected and beloved head of a research and development department at the fictional, soulless conglomerate of Veridian Dynamics. Ted narrates the series' events by regularly breaking the fourth wall and directly addressing the audience as the show's on-camera narrator. Supporting characters include Ted's supervisor Veronica Palmer, co-worker and love interest Linda Zwordling, his daughter Rose, and laboratory scientists Phillip Myman and Lem Hewitt.
The series received critical acclaim, with particular praise going towards its witty and satirical humor. Its second season holds a score of 84 out of 100 on Metacritic. However, despite such positive feedback, the show's debut only drew in 5.64 million viewers and continued to have extremely low ratings. Although many expressed skepticism towards whether or not it would return, the show was renewed for a second season. On May 13, 2010, ABC officially canceled the series due to low viewing figures. Two episodes were unaired in the United States, but are available to view on Netflix, Amazon Video on Demand, Xbox Live Marketplace, and iTunes.

Country:
Genre:
Jean-Claude Van Johnson
Jean-Claude Van Damme is a global martial arts & film sensation, also operating under the simple alias of "Johnson" as the world's best undercover private contractor. Retired for years, a chance encounter with a lost love brings him back to the game. This time, he'll be deadlier than ever. Probably.

Country:
Genre:
Scooby-Doo, Where Are You!
Scooby Doo, Where Are You! is the first incarnation of the long-running Hanna-Barbera Saturday morning cartoon series, Scooby-Doo. Created by Joe Ruby and Ken Spears, it premiered on September 13, 1969 at 10:30 a.m. EST and ran for two seasons for a total of 25 episodes. Its final first-run episode aired in January 1971.
Nine episodes from Scooby-Doo's 1976-78 seasons, first run on ABC, were originally broadcast with the 1969 Scooby Doo, Where Are You! opening and closing sequences. The entire 1976-78 series is sometimes marketed as third-fourth seasons of the original "Where Are You!" series.

Country:
Genre:
Rush Hour
The series follows Detective Carter, a radical LAPD detective, and Detective Lee, a by-the-book detective from Hong Kong, as they are forced into forming an unlikely partnership

Country:
Genre:
As Told by Ginger
As Told by Ginger focuses on middle schooler Ginger Foutley who, with her friends, tries to become more than a social geek.

Country:
Genre:
Fresh Off the Boat
A '90s-set single-camera comedy about a hip-hop-loving Asian kid growing up in suburban Orlando, being raised by an immigrant father obsessed with all things American and an immigrant mother often bewildered by white culture.

Country:
Genre: