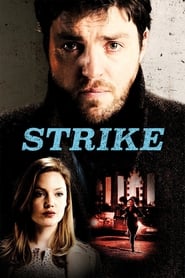 Strike
Detective dramas featuring private investigator Cormoran Strike based on the novels by Robert Galbraith (J. K. Rowling's pen name).
Actors: Tom Burke, Holliday Grainger, Dorothy Atkinson, Monica Dolan, Kerr Logan, Dominic Mafham, Tim McInnerny, Peter Sullivan, Jeremy Swift, Lia Williams,
Episodes: 5
Status: Returning Series
Seasons: 2
All Episodes
You may also like
Miss Korea
This drama takes place in year 1997 and is about a failing cosmetics company that tries to turn a former high school beauty queen into Miss Korea. Oh Ji Young is the former high school beauty queen who has grown up to be nothing more an an elevator girl. Meanwhile, Kim Hyung Joon is an employee of the cosmetics company and will lead the efforts to turn Oh Ji Young into Miss Korea to save his company.

Country:
Genre:
The Strain
A high concept thriller that tells the story of Dr. Ephraim Goodweather, the head of the Center for Disease Control Canary Team in New York City. He and his team are called upon to investigate a mysterious viral outbreak with hallmarks of an ancient and evil strain of vampirism. As the strain spreads, Eph, his team, and an assembly of everyday New Yorkers, wage war for the fate of humanity itself.

Country:
Genre:
American Odyssey
In this "Traffic"-like action drama, an international conspiracy explodes when three strangers' lives unexpectedly collide – a female soldier, a corporate lawyer and a political activist.

Country:
Genre:
The Walking Dead
Sheriff's deputy Rick Grimes awakens from a coma to find a post-apocalyptic world dominated by flesh-eating zombies. He sets out to find his family and encounters many other survivors along the way.

Country:
Genre:
Sunshine
This drama mini-series follows a group of friends from the South Sudanese community living in Sunshine, a suburb in the outskirts of Melbourne, Australia. The young men get entangled in a crime as they are hoping to make it as professional basketball players.

Country:
Genre:
No Ordinary Family
After their plane crashes into the Amazon River, each member of the Powell family starts to show signs of new, unique and distinct super powers.

Country:
Genre:
Eye Candy
Tech genius Lindy, convinced by her roommate to begin online dating, begins to suspect that one of her mysterious suitors may be a deadly cyber stalker. When her friends at the elusive cyber-police uncover a potential serial killer in Manhattan, all signs point to one of Lindy's dates. Teaming up with this band of hackers Lindy works to solve the murders while unleashing her own style of justice on the streets of New York City.

Country:
Genre:
Nobel
Lieutenant Erling Riiser is on his way back to Norway after a long stay in Afghanistan. Much has gone wrong, several soldiers are missing from the Hercelus-plane. After only one day in Norway, Erling receives a text message saying an old acquaintance from Afghanistan is in Oslo – which can mean only one thing: A woman's life is in danger

Country:
Genre:
The Musketeers
Set in 17th century Paris, musketeers Athos, Porthos, Aramis and D'Artagnan are members of an elite band of soldiers who fight for what is just. They are heroes in the truest and most abiding sense – men that can be trusted and believed in to do the right thing, regardless of personal risk.

Country:
Genre:
The Night Manager
Former British soldier Jonathan Pine navigates the shadowy recesses of Whitehall and Washington where an unholy alliance operates between the intelligence community and the secret arms trade. To infiltrate the inner circle of lethal arms dealer Richard Onslow Roper, Pine must himself become a criminal.

Country:
Genre:
Desperate Housewives
Desperate Housewives is an American television comedy-drama-mystery series created by Marc Cherry and produced by ABC Studios and Cherry Productions. It aired Sundays at 9 P.M. Eastern/8 P.M. Central, on ABC from October 3, 2004, until May 13, 2012. Executive producer Cherry served as showrunner. Other executive producers since the fourth season included Bob Daily, George W. Perkins, John Pardee, Joey Murphy, David Grossman, and Larry Shaw.
The main setting of the show was Wisteria Lane, a street in the fictional American town of 'Fairview' in the fictional 'Eagle State'. The show followed the lives of a group of women as seen through the eyes of a dead neighbor who committed suicide in the very first episode. The storyline covers thirteen years of the women's lives over eight seasons, set between the years 2004–2008, and later 2013–2017. They worked through domestic struggles and family life, while facing the secrets, crimes and mysteries hidden behind the doors of their — at the surface — beautiful and seemingly perfect suburban neighborhood.
The show featured an ensemble cast, headed by Teri Hatcher as Susan Mayer, Felicity Huffman as Lynette Scavo, Marcia Cross as Bree Van de Kamp, and Eva Longoria as Gabrielle Solis. Brenda Strong narrated the show as the deceased Mary Alice Young, appearing sporadically in flashbacks or dream sequences.

Country:
Genre:
NCIS: Los Angeles
The exploits of the Los Angeles–based Office of Special Projects (OSP), an elite division of the Naval Criminal Investigative Service that specializes in undercover assignments.

Country:
Genre: