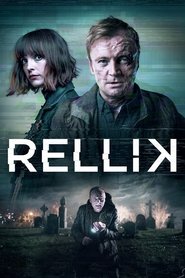 Rellik
A serial killer thriller told in reverse, unravelling the truth behind a series of murders as DCI Gabriel Markham hunts down a brutal killer.
Actors: Richard Dormer, Jodi Balfour, Paterson Joseph, Paul Rhys, Michael Schaeffer, Rosalind Eleazar, Georgina Rich, Lærke Winther Andersen, Shannon Tarbet, Ray Stevenson,
Episodes: 3
Status: Returning Series
Seasons: 1
All Episodes
You may also like
The Carrie Diaries
The Carrie Diaries is an American teen drama television series on The CW. It is a prequel to the HBO television series Sex and the City and based on the book of the same name by Candace Bushnell. The first season of the show focuses on Carrie Bradshaw during her junior year of high school in 1984, and she explores life in New York while interning at a law office. On May 11, 2012, the pilot was picked up by The CW to series and premiered on January 14, 2013.
On May 9, 2013, The CW renewed The Carrie Diaries for a second season, consisting of 13 episodes. The show's second season will premiere on October 25, 2013.

Country:
Genre:
DC's Legends of Tomorrow
When heroes alone are not enough … the world needs legends. Having seen the future, one he will desperately try to prevent from happening, time-traveling rogue Rip Hunter is tasked with assembling a disparate group of both heroes and villains to confront an unstoppable threat — one in which not only is the planet at stake, but all of time itself. Can this ragtag team defeat an immortal threat unlike anything they have ever known?

Country:
Genre:
Glamorous Temptation
A story about a woman experiencing a harsh fate, a woman who is jealous of her and a man set out to get revenge.

Country:
Genre:
Marco Polo
An epic adventure that follows the early years of the famous explorer as he travels the exotic Silk Road to the great Kublai Khan's court. But Marco soon finds that navigating the Khan's world of greed, betrayal, sexual intrigue and rivalry will be his greatest challenge yet, even as he becomes a trusted companion to the Khan in his violent quest to become the Emperor of the World.

Country:
Genre:
Nurse Jackie
Every day is a matter of life and death in a hectic New York City hospital, but for Nurse Jackie that's the easiest part. Between chronic back pain that won't quit, and a personal life on the constant edge of collapse, it's going to take a white lie here, a bent rule there, and a handful of secret strategies to relieve the pain, and stay one step ahead of total disaster.

Country:
Genre:
Braquo
Braquo is a French crime drama television series created by Olivier Marchal and produced by Capa Drama with the participation of Canal+ in association with Marathon Group, Be-Films and RTBF. It was first broadcast in France from October 12 to November 2, 2009. The first season established a record of audience for an original production of the channel, and has surpassed that of many U.S. productions broadcast by the network. The second season started in Canal+ on November 21, 2011. A third and final season was announced by main actor Jean-Hugues Anglade in 2011.
The name of the series comes from the French "braquage" that describes armed robberies, particularly those committed on banks.

Country:
Genre:
Attack on Titan
Several hundred years ago, humans were nearly exterminated by Titans. Titans are typically several stories tall, seem to have no intelligence, devour human beings and, worst of all, seem to do it for the pleasure rather than as a food source. A small percentage of humanity survived by walling themselves in a city protected by extremely high walls, even taller than the biggest Titans. Flash forward to the present and the city has not seen a Titan in over 100 years. Teenage boy Eren and his foster sister Mikasa witness something horrific as the city walls are destroyed by a Colossal Titan that appears out of thin air. As the smaller Titans flood the city, the two kids watch in horror as their mother is eaten alive. Eren vows that he will murder every single Titan and take revenge for all of mankind.

Country:
Genre:
Patriot
To prevent Iran from going nuclear, intelligence officer John Tavner must forgo all safety nets and assume a perilous "non-official cover" — that of a mid-level employee at a Midwestern industrial piping firm.

Country:
Genre:
Rush
Dr. William Rush is not your average on-call doctor. He's not attached to any hospital, he's highly discreet no matter what the ailment as long as the client can pay his cash-only premium and the doctor can party with the best of them. He has no desire to change his life or how he lives it, until an old flame and his conscience begin to stir things up.

Country:
Genre:
Flaked
In his funky California beach enclave, Chip's the go-to guy for personal insights. But he isn't quite as enlightened when it comes to his own baggage.

Country:
Genre:
Genius
Anthology series about famous geniuses with the first season charting how Einstein—an imaginative, rebellious patent clerk, who couldn't get a teaching job or a doctorate—unlocked the mysteries of the atom and the universe.

Country:
Genre:
Awkward.
An irreverent look at the conflict, chaos and humor that defines teenage life through the eyes of 15-year-old Jenna Hamilton whose life begins to change when a simple accident becomes an epic misunderstanding and is blown way out of proportion. Narration in the first-person voice of Jenna's blog posts captures the humor within the struggles and experiences everyone can relate to from their formative years.

Country:
Genre: