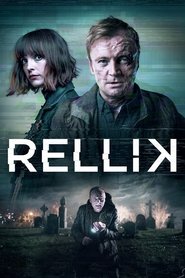 Rellik
A serial killer thriller told in reverse, unravelling the truth behind a series of murders as DCI Gabriel Markham hunts down a brutal killer.
Actors: Richard Dormer, Jodi Balfour, Paterson Joseph, Paul Rhys, Michael Schaeffer, Rosalind Eleazar, Georgina Rich, Lærke Winther Andersen, Shannon Tarbet, Ray Stevenson,
Episodes: 3
Status: Returning Series
Seasons: 1
All Episodes
You may also like
Longmire
Longmire is a crime drama television series that is based on the "Walt Longmire" series of mystery novels written by best-selling author Craig Johnson. The show centers around Walt Longmire, a Wyoming county sheriff who returns to work after his wife's death. Assisted by his friends and his daughter, Longmire investigates major crimes within his jurisdiction, whilst campaigning for re-election.

Country:
Genre:
21 Thunder
The story of the Montreal Thunder U21 (under-21) team, following the team's star players on and off the field. A story of love, crime, race, sex and athletic glory, at its core the series is about how a group of players and coaches unite as family in the whirlwind of life, one step away from the pros.

Country:
Genre:
Mission: Impossible
Mission: Impossible is an American television series that was created and initially produced by Bruce Geller. It chronicles the missions of a team of secret government agents known as the Impossible Missions Force. In the first season, the team is led by Dan Briggs, played by Steven Hill; Jim Phelps, played by Peter Graves, takes charge for the remaining seasons. A hallmark of the series shows Briggs or Phelps receiving his instructions on a recording that then self-destructs, followed by the theme music composed by Lalo Schifrin.
The series aired on the CBS network from September 1966 to March 1973, then returned to television for two seasons on ABC, from 1988 to 1990, retaining only Graves in the cast. It later inspired a popular series of theatrical motion pictures starring Tom Cruise, beginning in 1996.

Country:
Genre:
Shopping King Louie
A romance takes place between Kang Ji-Sung aka Louie and Ko Bok-Sil. Louie is from a rich family, but he has lost his memory. Ko Bok-Sil is a woman with a heart like an angel. Louie learns about true love after meeting Ko Bok-Sil.

Country:
Genre:
Conviction
A brilliant young attorney, who is also the daughter of a former U.S. president, is blackmailed to head up LA's new Conviction Integrity Unit. She and her team investigate cases where people may have been wrongly convicted.

Country:
Genre:
Secret
A devoted woman makes the ultimate sacrifice for her boyfriend, only to learn that love doesn't always conquer all. Yoo Jeong (Hwang Jeong Eum) is a sweet, upbeat person who has always stuck by her boyfriend, Ahn Do Hoon (Bae Soo Bin), all through school as he cared for a disabled father. But Do Hoon gets into a car accident that results in the death of a woman. Unable to face her boyfriend having to go to jail for a hit-and-run accident, the self-sacrificing Yoo Jeong takes the blame for the accident and serves time in prison in his place. Min Hyeok (Ji Sung), a cold-hearted heir to a business empire, had just begun to open his heart to a woman when she is killed in the hit-and-run accident. Years later, he is engaged to Shin Se Yeon (Lee Da Hee), a congressman's daughter. Can Yoo Jeong and Min Hyeok mend their wounded hearts and discover the real meaning of love?

Country:
Genre:
Kingdom Hospital
Kingdom Hospital is a thirteen-episode television series based on Lars von Trier's The Kingdom, which was developed by horror writer Stephen King in 2004 for American television. While initially conceived as a mini-series, it was later changed into a regular television series. It was first aired on ABC on March 3 and concluded on July 15, 2004 after being put on hold during NBA playoffs. The entire series is now available on DVD.

Country:
Genre:
Somewhere Between
Laura Price is a superstar news producer in San Francisco and fiercely loving mom. She isn't crazy: Laura knows her 8-year-old daughter is going to be murdered. She doesn't know who the murderer is, or why she's killed, but she knows exactly when it will happen, where, and how. Despite this, all of her attempts to keep her daughter safe fail, and Serena's fixed, unmovable, terrifying fate keeps her directly in the path of her killer.

Country:
Genre:
DCI Banks
A thrilling drama based on the novels by Peter Robinson. Stephen Tompkinson and Andrea Lowe star as the tenacious and stubborn Chief Inspector Alan Banks and the feisty and headstrong Detective Sergeant Annie Cabbot.

Country:
Genre:
The Royals
Drama about a fictional British Royal family set in modern day London, who inhabit a world of opulence and regal tradition that caters to any and every desire, but one that also comes with a price tag of duty, destiny and intense public scrutiny.

Country:
Genre:
The Frankenstein Chronicles
Inspector John Marlott investigates a series of crimes in 19th Century London, which may have been committed by a scientist intent on re-animating the dead.

Country:
Genre:
The Man in the High Castle
Based on Philip K. Dick's award-winning novel, The Man in the High Castle explores what it would be like if the Allied Powers had lost WWII, and Japan and Germany ruled the United States.

Country:
Genre: