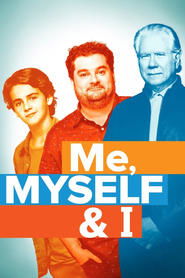 Me, Myself & I
A comedy examines one man's life over a 50-year span. It explores three distinct periods in his life – as a 14-year-old in 1991, a 40-year-old in present day and a 65-year-old in 2042.
Genre: Comedy
Actors: Brian Unger, Reylynn Caster, Christopher Paul Richards, Bobby Moynihan, John Larroquette, Jack Dylan Grazer, Kelen Coleman, Skylar Gray, Jaleel White, Sharon Lawrence, Mandell Maughan,
Directors: Dan Kopelman
Episodes: 3
Status: Returning Series
Seasons: 1
All Episodes
You may also like
No Activity
Set against the backdrop of a major drug cartel bust, the series follows two low-level cops who have spent far too much time in a car together, two criminals who are largely kept in the dark, two dispatch workers who haven't really clicked and two Mexican tunnelers who are in way too small a space considering they've only just met.

Country:
Genre:
The Adventures of Puss in Boots
The world's greatest feline fighter, lover and milk connoisseur is back in this original series filled with daring adventures, great boots, and laugh-out-loud fun! The entire family will be entranced by Puss' fantastical CG world filled with new characters, exotic locations and mystical tales that make up the stuff of legends. There's nothing that can get in this celebrated swashbuckling kitty's way…except maybe a hairball.

Country:
Genre:
Bizaardvark
The live-action comedy follows comedy duo Paige and Frankie, two quirky teens who write funny songs and create music comedy videos for their online channel. With the help of friend and aspiring agent Bernie plus Vuuugle stars Dirk and Amelia, the best friends embark on comedic adventures in their quest to take the video blogging world by storm.

Country:
Genre:
Letterkenny
Letterkenny follows Wayne, a good-ol' country boy in Letterkenny, Ontario trying to protect his homegrown way of life on the farm, against a world that is constantly evolving around him. The residents of Letterkenny belong to one of three groups: Hicks, Skids, and Hockey Players. The three groups are constantly feuding with each other over seemingly trivial matters; often ending with someone getting their ass kicked.

Country:
Genre:
Ground Floor
Brody, a young hot-shot banker at Whitestone Trust, thought he was just having a one-night stand with Jennifer, a beautiful woman he met at a bar. But when he discovers that she works in maintenance for the building where he works, their worlds begin to collide in the most unexpected way. Facing Brody's critical boss, Mr. Mansfield, as well as annoyed colleagues, the pair must find a way to deal with their growing feelings for each other in this modern take on Romeo & Juliet.

Country:
Genre:
9JKL
A time in Mark Feuerstein's adult life when he lived in apartment 9K in the building he grew up in, sandwiched between his parents' apartment, 9J; and his brother, sister-in-law and their baby's apartment, 9L and his attempts to set boundaries with his intrusive but well-meaning family.

Country:
Genre:
Boys Over Flowers
A working class girl winds up at an exclusive prep school. Unassuming high school girl Jan Di stands up to — and eventually falls for — a spoiled rich kid who belongs to the school's most powerfu clique.

Country:
Genre:
Manhattan Love Story
The unfiltered internal monologues of a young man and a young woman are exposed as they begin a new relationship together.

Country:
Genre:
Will & Grace
Will Truman and Grace Adler are best friends living in New York, and when Grace's engagement falls apart, she moves in with Will. Together, along with their friends, they go through the trials of dating, sex, relationships and their careers, butting heads at times but ultimately supporting one another while exchanging plenty of witty banter along the way.

Country:
Genre:
One More Happy Ending
Drama series depicts the story of marriage, remarriage and divorce. Han Mi Mo was once an idol group member, but she now works as a representative of a remarriage consulting business. She gives honest answers to her customers who hope to remarry. Song Soo Hyuk is a divorced man in his thirties with an 11-year-old son. He is a good-looking gossip reporter who looks like he is still in his twenties. He is very good at his job, because his looks and smiles melt the hearts of his interview subjects, and they are very willing to disclose even the deepest secrets. "One More Happy Ending" will deal with the stories of the divorced, who dream of becoming happy one more time.

Country:
Genre:
Westside
The story of legendary safe cracker and career criminal Ted West and his firecracker of a wife, Rita. Combining real events and the rich folklore of the West family and associates, this is rollicking history, and a tempestuous romance, set at a time of great social upheaval.

Country:
Genre:
Marry Me
Six years ago, Annie and Jake bonded over their mutual love of nachos and they've been inseparable ever since. Now, after returning from a romantic two-week island vacation, Jake's all set to pop the question. Before he can ask, though, Annie lets loose on Jake for his inability to commit. She was expecting him to "put a ring on it" in paradise and now Jake's perfect proposal is ruined. Not wanting to spend the next 60 years talking about that mess of a proposal, Jake and Annie decide to hold off on the engagement until they can do it right. Yet if history tells us anything, it's when we really want things to go right that they all tend to go wrong. The only thing we know for sure is these two are destined to be together whether they can get it together or not.

Country:
Genre: