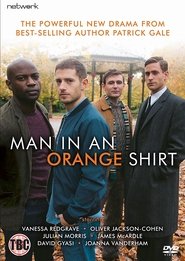 Man in an Orange Shirt
A love story in two films charts the very different challenges to happiness for Michael and Thomas in the aftermath of World War 2, and to Adam and Steve in the present day.
Episodes: 1
Status: Returning Series
Seasons: 1
All Episodes
You may also like
Young Hercules
Young Hercules was a spin-off from the 1990s syndicated television series Hercules: The Legendary Journeys. It was aired on Fox Kids from September 12, 1998, to May 12, 1999. It lasted one season with 50 episodes and starred Ryan Gosling in the title role.

Country:
Genre:
Archer
Sterling Archer is the world's most daunting spy. He works for ISIS, a spy agency run by his mother. In between dealing with his boss and his co-workers – one of whom is his ex-girlfriend – Archer manages to annoy or seduce everyone that crosses his path. His antics are only excusable because at the end of the day, he still somehow always manages to thwart whatever crises was threatening mankind.

Country:
Genre:
Bull
Dr. Jason Bull is the brilliant, brash, and charming founder of a hugely successful trial consulting firm.

Country:
Genre:
Collateral
When a pizza delivery driver is shot dead in south London, a tenacious detective goes after the people traffickers behind his murder and unravels a conspiracy that goes to the top.

Country:
Genre:
BrainDead
A young fresh-faced Hill staffer gets her first job in Washington, D.C. and discovering two things: 1. The government has stopped working, and 2. alien spawn have come to earth and eaten the brains of a growing number of Congressmen and Hill staffers.

Country:
Genre:
Wentworth
Wentworth is an Australian television drama series. It was first broadcast on SoHo on 1 May 2013. The series serves as a contemporary reimagining of Prisoner, which ran on Network Ten from 1979 to 1986. Lara Radulovich and David Hannam developed Wentworth from Reg Watson's original concept. The series is set in the modern day and centres on Bea Smith's early days in prison. Wentworth is filmed on a purpose built set in the suburb of Clayton. It has received a mostly positive reception from critics and the first episode became the most watched Australian drama series premiere in Foxtel history. The series was picked up by several countries, including New Zealand and the UK, where it has been retitled Wentworth Prison. The series 3rd season started 7 April 2015.

Country:
Genre:
Fantasy Island
Fantasy Island is the title of two separate but related American television series, both originally airing on the ABC television network.

Country:
Genre:
A Place to Call Home
A mysterious woman is perched between the harsh legacy of World War II and the hope of a new life in Australia. A Place to Call Home is a sweeping romantic drama set in 1950s rural Australia following the lives of the Blighs, a wealthy and complicated pastoralist family, who lives in Inverness, NSW.

Country:
Genre:
Orphan Black
A streetwise hustler is pulled into a compelling conspiracy after witnessing the suicide of a girl who looks just like her.

Country:
Genre:
Empire
A unique family drama set in the world of a hip hop empire.

Country:
Genre:
Battle Creek
In this mismatched buddy cop dramedy, an amazingly handsome, happy-go-lucky FBI agent is paired with a local, hard scrabble Michigan homicide detective. As they solve crimes together, their polar opposite methods only slightly outweigh their disdain for each other.

Country:
Genre:
Downton Abbey
A chronicle of the lives of the aristocratic Crawley family and their servants in the post-Edwardian era—with great events in history having an effect on their lives and on the British social hierarchy.

Country:
Genre: