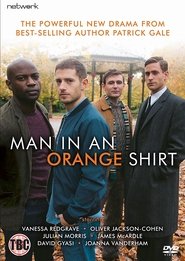 Man in an Orange Shirt
A love story in two films charts the very different challenges to happiness for Michael and Thomas in the aftermath of World War 2, and to Adam and Steve in the present day.
Episodes: 1
Status: Returning Series
Seasons: 1
All Episodes
You may also like
Beautiful Mind
Lee Young-O is an excellent neurosurgeon with zero sympathy. One day, he becomes involved in bizarre patient deaths. He also falls in love and recovers his humanity.

Country:
Genre:
Show Me a Hero
Mayor Nick Wasicsko took office in 1987 during Yonkers' worst crisis when federal courts ordered public housing to be built in the white, middle class side of town, dividing the city in a bitter battle fueled by fear, racism, murder and politics.

Country:
Genre:
Emily Owens, M.D
Emily Owens, M.D. is an American medical drama television series created by Jennie Snyder Urman. It was picked up by The CW on May 11, 2012, It premiered on The CW on October 16, 2012, and aired on Tuesdays at 9:00 pm Eastern/8:00 pm Central. On November 28, 2012, the series was canceled by The CW. The 13th and final episode aired on February 5, 2013.

Country:
Genre:
Mount Pleasant
British dramedy which follows the life of Mancunian Lisa and the day-to-day adventures she has with her husband, friends and family.

Country:
Genre:
Halt and Catch Fire
Set in the early 1980s, and about a fictional visionary, an engineer and a prodigy whose innovations confronts the corporate behemoths of the time. Their personal and professional partnership will be challenged by greed and ego while charting the changing culture in Texas' Silicon Prairie.

Country:
Genre:
How to Get Away with Murder
A sexy, suspense-driven legal thriller about a group of ambitious law students and their brilliant, mysterious criminal defense professor. They become entangled in a murder plot and will shake the entire university and change the course of their lives.

Country:
Genre:
Sleepy Hollow
Ichabod Crane is resurrected and pulled two and a half centuries through time to unravel a mystery that dates all the way back to the founding fathers.

Country:
Genre:
Flaked
In his funky California beach enclave, Chip's the go-to guy for personal insights. But he isn't quite as enlightened when it comes to his own baggage.

Country:
Genre:
Whitechapel
Whitechapel is a British television drama series produced by Carnival Films, in which detectives in London's Whitechapel district deal with murders which replicate historical crimes. The first series was first broadcast in the UK on 2 February 2009 and depicted the search for a modern copycat killer replicating the murders of Jack the Ripper.
A second series was commissioned by ITV in September 2009 with the focus on the Kray twins. The first episode of this second series was broadcast on 11 October 2010.
A third series was commissioned by ITV in March 2011, which was extended to six episodes as three two-part stories.
The first and second series were broadcast in the United States on six consecutive Wednesday evenings beginning 26 October 2011 on the BBC America cable network. The third was broadcast in the US starting on Wednesday 28 March 2012, also on BBC America.
On 24 September 2012, ITV renewed Whitechapel for a fourth series consisting of 6 episodes. The first episode was broadcast on 4 September 2013.

Country:
Genre:
Extant
An astronaut returns home from a year long solo mission in space. She tries to reconnect with her husband and son in their everyday life. Her experiences in space and home lead to events that ultimately will change the course of human history.

Country:
Genre:
Follow the Money
'Deceived' is about economic crime. About what happens to people when greed and ambition corrupts. The series exposeses viewers into economic crimes complex world. In the banks, the stock exchange and in boardrooms.

Country:
Genre:
Chasing Life
April is a smart aspiring journalist in her 20s who tries to balance her ambitious career with her family, which includes her widowed mom, rebellious little sister, and her grandmother. We meet April at a pivotal moment in her life: she's landed a fantastic opportunity to impress her hard-nosed Boston newspaper editor and an office romance with her super-sexy co-worker Dominic is just beginning to blossom. In an unexpected twist of fate, April lands in the hospital where her estranged uncle George works as an oncologist, and she learns the devastating news that she has cancer. The series follows April through her journey in the face of this daunting revelation, during a time in her life when the challenges of finding love and success would be enough to keep any girl occupied. But April is determined to fight and refuses to give up her dreams and goals.

Country:
Genre: