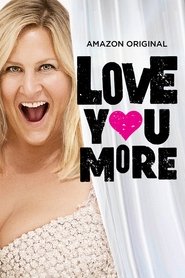 Love You More
Karen Best has a big life. She's a big girl with a big personality and a big love of Chardonnay, which occasionally, causes her to make some big mistakes with men. But the biggest thing about Karen is her big heart, a heart she uses to excel at her job as a counselor at a group home for young adults with Down syndrome located in an old brownstone in New York City.
Episodes:
Status: Pilot
Seasons: 1
All Episodes
You may also like
Wrecked
Single-camera comedy centering on a diverse group of survivors adjusting to being stranded on an uninhabited island, a dangerous new world where they must face many threats – mostly brought on by themselves. No longer plugged into the rest of the world, the group struggles to navigate their makeshift society while also learning to live without such modern comforts as indoor plumbing, Wi-Fi, social media and Chipotle.

Country:
Genre:
Baskets
Chip Baskets wants to follow his dream of being a French clown—however, reality keeps interfering. Saddled with financial difficulties and facing an impenetrable language barrier, he moves back home to Bakersfield with high hopes. There, he is forced to confront his past while working as a rodeo clown and competing with his siblings for his mother's approval and affection.

Country:
Genre:
Keeping Up Appearances
Keeping Up Appearances is a British sitcom created and written by Roy Clarke for the BBC. Centred on the life of eccentric, social-climbing snob Hyacinth Bucket, the sitcom follows her obsessive and determined attempts to impress in middle class society and portray herself as more affluent than she truly is.
The show stars Patricia Routledge, who received two BAFTA nominations for her performance as Hyacinth. Broadcast between 1990 and 1995 on BBC One, the sitcom spawned five series and 44 episodes—4 of which are Christmas specials. Keeping Up Appearances was a great success in the UK and also captivated a large audience in the US, Canada, and Australia, but production ceased in 1995 when Routledge wanted to move on to other projects. Since its original release, all five series—including Christmas specials—are available on DVD. In 2004, the sitcom was ranked 12th in the countdown of Britain's Best Sitcom. It is regularly repeated worldwide.

Country:
Genre:
Johnny Test
Johnny Test is an American /Canadian animated television series. It premiered on Kids' WB, on The WB Television Network, on September 17, 2005. It was introduced to Cartoon Network UK on January 12, 2006 as a sneak preview on Jungle Saturdays Block, and then on June 5, 2006, added to its daily lineup. Despite the merger of the UPN and that programming block's parent channel into The CW Television Network, the show still continued to air on Kids' WB, on The CW, with its second and third seasons, through October 28, 2006, to March 1, 2008. The series currently airs in the United States on Cartoon Network, as of January 7, 2008, and in Canada on Teletoon, as of September 8, 2006. International airings include Teletoon in Canada, Nick Germany, Nick Netherlands, Disney Channel Spain and on Cartoon Network in Latin America, Hungary, Poland, Romania, Denmark, Ireland, India and Sweden. The show was produced by Warner Bros. Animation for the first season and later seasons by Cookie Jar Entertainment & DHX Media. Starting from season 6, the show is produced by 9 Story Entertainment. The series is rated TV-Y7 for seasons 1-4, and TV-Y7-FV for season 5 onwards.

Country:
Genre:
Dice
Hickory, dickory, dock – the Dice Man's back and he's ready to rock. The semi-true stories of Andrew Dice Clay, whose unique brand of humor often gets him in trouble. Once on top, the comedian now must work to resurrect his career, pay his gambling debts, manage his sons' rock band, fend off old fans and keep his family afloat.

Country:
Genre:
The Increasingly Poor Decisions of Todd Margaret
Comedy about an inept American placed in charge of sales at his company's London branch. He has no experience with British culture, knows nothing about sales, and has only one employee, Dave. Each episode begins with a scene of Margaret appearing in dire circumstances.

Country:
Genre:
black-ish
A family man struggles to gain a sense of cultural identity while raising his kids in a predominantly white, upper-middle-class neighborhood.

Country:
Genre:
Girlfriends' Guide to Divorce
Follows a best-selling author of a self-help book series who is secretly hiding her separation from her husband as she starts to navigate her life as a single woman in her 40's in Los Angeles. She starts to side with and take advice more from her divorced friends rather than her married ones and it leads her to some unexpected and life-changing experiences.

Country:
Genre:
Soap
Soap is an American sitcom that originally ran on ABC from 1977 into 1981. The show was created as a night-time parody of daytime soap operas, presented as a weekly half-hour prime time comedy. Similar to a soap opera, the show's story was presented in a serial format and included melodramatic plot elements such as alien abduction, demonic possession, murder, and kidnapping.
In 2007 it was listed as one of Time magazine's "100 Best TV Shows of All-TIME," and in 2010, the Tates and the Campbells ranked at number 17 in TV Guide's list of "TV's Top Families".
The show was created, written, and executive produced by Susan Harris, and also executive produced by Paul Junger Witt and Tony Thomas. Each returning season was preceded by a 90-minute retrospective of the previous season. Two of these retrospectives were made available on VHS in 1994.
The show aired 85 episodes over the course of four seasons. The final four episodes of the series aired as one-hour episodes during the original run on ABC. These hour-long episodes were later split in two, yielding 93 half-hour episodes for syndication.
All episodes are currently available on region 1 DVD in four separate box sets. In the past, the series has rerun on local syndicated channels as well as on cable on Comedy Central and TV Land. It ran on over-the-air television on Antenna TV, until December 30th, 2012.

Country:
Genre:
Dirk Gently's Holistic Detective Agency
A comedic thriller that follows the bizarre adventures of eccentric "holistic" detective Dirk Gently and his reluctant assistant Todd. An adaptation of Douglas Adams' wildly successful comic novels.

Country:
Genre:
Garfunkel and Oates
Garfunkel and Oates stars Riki Lindhome and Kate Micucci as both themselves and their musical comedy alter-egos, "Garfunkel and Oates," following the pair as they try to expand the reaches of their meager celebrity. Well-known on the improv-comedy scene, Micucci and Lindhome met at the Upright Citizens Brigade Theatre in LA, naming their band for "two famous rock-and-roll second bananas," Art Garfunkel and John Oates. In five bite-sized episodes, Riki and Kate skewer taboos and perform tongue-in-cheek songs about their woeful lives as single, late-20-something Los Angelinos.

Country:
Genre:
Power Monkeys
Following the success of their 2015 election comedy Ballot Monkeys, Andy Hamilton and Guy Jenkin (Ballot Monkeys, Outnumbered, Drop the Dead Donkey) return to Channel 4 with a six-part satire lampooning the fictional communications and social media 'experts' on both sides of the EU referendum, as well as taking audiences a few doors down from the Kremlin and into the imagined world of Donald Trump's campaign plane.

Country:
Genre: