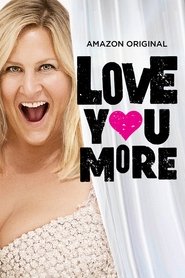 Love You More
Karen Best has a big life. She's a big girl with a big personality and a big love of Chardonnay, which occasionally, causes her to make some big mistakes with men. But the biggest thing about Karen is her big heart, a heart she uses to excel at her job as a counselor at a group home for young adults with Down syndrome located in an old brownstone in New York City.
Episodes:
Status: Pilot
Seasons: 1
All Episodes
You may also like
Bring It On, Ghost
Hyun-Ji studied for her 19 years before she died in an accident. She is now a ghost and has wandered around the world for several years. Hyun-Ji then meets exorcist Park Bong-Pal. Hyun-Ji and Bong-Pal listens to various stories from ghosts and sends them to the otherworld.

Country:
Genre:
Criss Angel Mindfreak
Criss Angel Mindfreak is a show that aired on A&E Network. It debuted in 2005 and ended in 2010. It centered on stunts and street magic acts by magician Criss Angel.

Country:
Genre:
Modern Farmer
In search of inspiration, rock band "Excellent Souls" — Lee Min Ki, Kang Hyeok, Yoo Han Cheol — goes on hiatus deep in the countryside. To their surprise, the village elder is none other than Kang Yoon Hee, a zippy woman who's not only the town's first female leader, but also the youngest. She also just so happens to be bandleader Min Ki's first love. Amidst a rural backdrop, these scrappy rockers take stock of what stirs their passions — both musical and romantic.

Country:
Genre:
Odd Mom Out
Acclaimed author Jill Kargman plays a version of herself as she navigates the treacherous and elite ecosystem of New York's Upper East Side, and the uber-wealthy mommy clique inhabiting this fantastically outrageous domain.

Country:
Genre:
Joey
Joey is an American sitcom, a spin-off from Friends, which stars Matt LeBlanc reprising his role as Joey Tribbiani. It premiered on the NBC television network, on September 9, 2004, in the former time slot of its parent series, Thursday nights at 8:00 p.m.
Midway through the second season, the show was placed on a hiatus by NBC but returned on March 7, 2006, in a new timeslot of Tuesdays at 8:30 p.m. One episode, "Joey and the Snowball Fight", was shown on a Tuesday at 8:30 p.m, but was pulled by NBC when it was overshadowed in ratings by American Idol. NBC canceled the series due to poor ratings in May 2006 and did not broadcast the remaining episodes.
No other cast members from Friends reprised their roles on Joey.

Country:
Genre:
Hindsight
The series begins with Becca on the eve of her second wedding. It all seems perfect this time around, but she is still plagued by doubt. What if she could fix everything, and make the 'right' choices this time? Becca finds herself thinking about her former best friend Lolly, with whom she had a falling out many years ago. If only she could talk to her once again… Suddenly, after a freakish elevator ride, Becca gets the opportunity to do just that as she wakes up in New York City on the morning of her first wedding day in 1995. She's about to marry Sean, a bad-boy artist who is all wrong for her – and she knows her first move must be to reconnect with Lolly to re-live that day. Can she 'make it right' by living her life all over while re-adapting to life in New York City in the 90's – a time of smoking in bars, carrying pagers, having an AOL email address? Becca will soon discover there's no sure-fire way to make the right choices in life – even knowing everything she thinks she knows now.

Country:
Genre:
As Told by Ginger
As Told by Ginger focuses on middle schooler Ginger Foutley who, with her friends, tries to become more than a social geek.

Country:
Genre:
Transparent
An LA family with serious boundary issues have their past and future unravel when a dramatic admission causes everyone's secrets to spill out.

Country:
Genre:
She's Gotta Have It
Nola Darling struggles to define herself and divide her time among her friends, job and three lovers. A new take on Spike Lee's film, in 10 episodes.

Country:
Genre:
Necessary Roughness
Necessary Roughness is a USA Network television series starring Callie Thorne and Scott Cohen. The one-hour drama series was picked up for 12 episodes on January 19, 2011. The series debuted on June 29, 2011, with a 90-minute premiere episode. The second season premiered on June 6, 2012. On January 7, 2013, USA Network announced the series was renewed for a 10-episode third season, which began on June 12, 2013.

Country:
Genre:
I Didn't Do It
Ultra-competitive fraternal twins Lindy and Logan Watson, together with their four best friends, navigate their freshman year of high school. Each episode begins with a comedic "what just happened?" situation as Lindy and Logan each spin their own vivid account of a certain occurrence or predicament. The series utilizes flashback scenes to tell the siblings' unique stories.

Country:
Genre:
Scoundrels
A family of small-time criminals try to go straight after the father is sent to prison.

Country:
Genre: