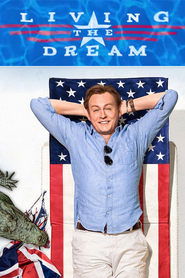 Living the Dream
A British family, the Pembertons, decide it's time to leave rainy England and move to the sunshine state of Florida. They've bought an RV Park with plans for a booming family-run business, but it soon turns out that they are not going to be living the dream they hoped.
Episodes: 4
Status: Returning Series
Seasons: 1
All Episodes
You may also like
Gracepoint
When a young boy is found dead on an idyllic beach, a major police investigation gets underway in the small California seaside town where the tragedy occurred. Soon deemed a homicide, the case sparks a media frenzy, which throws the boy's family into further turmoil and upends the lives of all of the town's residents.

Country:
Genre:
American Vandal
A true-crime satire that explores the aftermath of a costly high school prank that left twenty-seven faculty cars vandalized with phallic images.

Country:
Genre:
Black Dynamite
Black Dynamite is an American animated television series based on the 2009 film of the same name, although the series follows a separate continuity, with some back-references to the film. The series was announced shortly after the release of the film, the 10-minute pilot episode was released on Adult Swim Video on August 8, 2011, and the full series premiered on Cartoon Network's late night programming block, Adult Swim, on July 15, 2012. Michael Jai White, Byron Minns, Tommy Davidson and Kym Whitley reprise their film roles as Black Dynamite, Bullhorn, Cream Corn and Honeybee, respectively.

Country:
Genre:
Man in an Orange Shirt
A love story in two films charts the very different challenges to happiness for Michael and Thomas in the aftermath of World War 2, and to Adam and Steve in the present day.

Country:
Genre:
Allegiance
Alex O'Connor, a young idealistic CIA analyst specializing in Russian affairs, learns a shocking secret and his close-knit, affluent family is about to be split apart when it's revealed that his parents, Mark and Katya, are covert Russian spies deactivated decades ago. But today the Kremlin has re-enlisted them into service as they plan a terrorist operation inside the U.S. border that will bring America to its knees.

Country:
Genre:
Tales from the Darkside
Tales from the Darkside is an anthology horror TV series created by George A. Romero; it was released in 1984. Similar to Amazing Stories, The Twilight Zone, Night Gallery, The Outer Limits, Tales From The Crypt, and Lee Martin's The Midnight Hour, each episode was an individual short story that ended with a plot twist. The series' episodes spanned the genres of horror, science fiction, and fantasy, and some episodes featured elements of black comedy or more lighthearted themes.

Country:
Genre:
The Producers
The drama is set in the backstage world of broadcasting industry. The story revolves around the dynamic work and life of people who work in entertainment division of television network.

Country:
Genre:
Still Game
Cult Scottish comedy about the lives of two OAP's (Old Age Pensioners) Jack and Victor and their views on how it used to be in the old days and how bad it is now in the fictional town of Craiglang.

Country:
Genre:
BrainDead
A young fresh-faced Hill staffer gets her first job in Washington, D.C. and discovering two things: 1. The government has stopped working, and 2. alien spawn have come to earth and eaten the brains of a growing number of Congressmen and Hill staffers.

Country:
Genre:
Riverdale
Set in the present, the series offers a bold, subversive take on Archie, Betty, Veronica and their friends, exploring the surreality of small-town life, the darkness and weirdness bubbling beneath Riverdale's wholesome facade.

Country:
Genre:
Chance
San Francisco-based forensic neuropsychiatrist Eldon Chance reluctantly gets sucked into a violent and dangerous world of mistaken identity, police corruption and mental illness.

Country:
Genre:
Ash vs Evil Dead
Bruce Campbell reprises his role as Ash Williams, an aging lothario and chainsaw-handed monster hunter who's spent the last three decades avoiding maturity, and the terrors of the Evil Dead. But when a Deadite plague threatens to destroy all of mankind, he's forced to face his demons — both metaphorical and literal.

Country:
Genre: