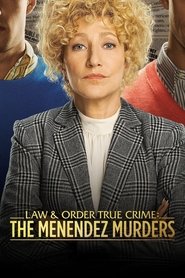 Law & Order True Crime
An anthology series that delves into the players, the crime and the media circus, detailing the day-to-day battles of the trial and unveiling the shocking truth of what really went down when the cameras stopped rolling.
Episodes: 4
Status: Returning Series
Seasons: 1
All Episodes
You may also like
3%
A thriller set in a world sharply divided between progress and devastation, where people are given the chance to make it to the "better side" but only 3% of the candidates succeed.

Country:
Genre:
Ten Days in the Valley
Single mother Jane Sadler's life is turned upside down when her young daughter goes missing in the middle of the night. And just like in the controversial police TV show she produces, everything is a mystery, everyone has a secret and no one can be trusted.

Country:
Genre:
The Halcyon
The story of a bustling and glamorous five star hotel at the centre of London society and a world at war.

Country:
Genre:
Catching Kelce
A dating competition series featuring football star Travis Kelce, who hopes to find true love among 50 eligible women, one representing each state in the U.S.

Country:
Genre:
Generation Kill
Generation Kill is a British-American television miniseries produced for HBO, based on the book of the same name by Evan Wright about his experience as an embedded reporter with the U.S. Marine Corps' 1st Reconnaissance Battalion during the 2003 invasion of Iraq. It was adapted for television by David Simon, Ed Burns and Evan Wright. The series premiered on July 13, 2008. It was produced by Andrea Calderwood.

Country:
Genre:
Master: God of Noodles
When Moo-Myung was young, he had an once-in-a-lifetime event. He walked into orphanage by himself. To take revenge, he attempts to become a God of Noodles.

Country:
Genre:
Code Black
Inspired by the award-winning documentary, this medical drama is set in the busiest and most notorious ER in the nation where the extraordinary staff confront a challenged system in order to protect their ideals and the patients who need them the most.

Country:
Genre:
Manhattan
Set against the backdrop of the greatest clandestine race against time in the history of science with the mission to build the world's first atomic bomb in Los Alamos, New Mexico. Flawed scientists and their families attempt to co-exist in a world where secrets and lies infiltrate every aspect of their lives.

Country:
Genre:
Come Back, Mister
A man is worked to death, but he comes back to the living world in the attractive body of another man for a limited amount of time. Lee Hae Joon is a perfect man with good looking appearance. He works as a section chief in the women's apparel section at a department store. His body is actually possessed by the spirit of Kim Young Soo who was worked to death. Meanwhile, Hong Nan is a beautiful woman, but her spirit is possessed by a tough guy, Han Ki Tak. At the same time, Shin Da Hye is a beautiful housewife, but her husband suddenly dies. She falls into a love triangle with Lee Hae Joon and a promising store employee Jung Ji Hoon.

Country:
Genre:
Defendant
Park Jung-Woo is a prosecutor at Seoul Central District Prosecutors' Office. One day, he wakes up and finds himself in locked up at the police station. He has temporary amnesia. Park Jung-Woo is falsely accused and is sentenced to death. He must struggle to prove his innocence.

Country:
Genre:
Misfits
Misfits is a British science fiction comedy-drama television show, on the network Channel 4, about a group of young offenders sentenced to work in a community service programme, where they obtain supernatural powers after a strange electrical storm. The series started in 2009 and is currently ongoing.
Antonia Thomas, Iwan Rheon, Lauren Socha, Nathan Stewart-Jarrett, and Robert Sheehan are introduced as Alisha Daniels, Simon Bellamy, Kelly Bailey, Curtis Donovan, and Nathan Young respectively. Sheehan left after the second series, replaced in the third by Joseph Gilgun as Rudy Wade. After the third series was announced Rheon, Thomas and Socha had left their roles and would be replaced by new cast members Karla Crome, Nathan McMullen and Matt Stokoe, as Jess, Finn and Alex respectively. Midway through the fourth series, Stewart-Jarrett left while Natasha O'Keeffe joined the cast as Abbey Smith.
On 19 March 2013, Channel 4 announced at a press event that they have renewed Misfits for a fifth and final series containing 8 episodes.

Country:
Genre:
The Brave
The complex world of our bravest military heroes who make personal sacrifices while executing the most challenging and dangerous missions behind enemy lines.

Country:
Genre: