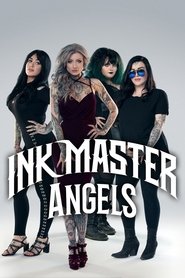 Ink Master: Angels
Four of "Ink Master" Season 8's top female competitors – Ryan Ashley, Kelly Doty, Nikki Simpson and Gia Rose – travel the country and go head to head with some of America's most talented tattoo artists. Competitors face a variety of tattoo-based challenges to see who has what it takes to beat the "Angels" and earn a spot on Season 10 of "Ink Master"
Episodes: 5
Status: Returning Series
Seasons: 1
All Episodes
You may also like
Jep & Jessica: Growing the Dynasty
The continuing chronicles of the lives of Jep and Jessica Robertson and their five children.

Country:
Genre:
Ghost Adventures
Paranormal investigator Zak Bagans and his crew, Nick Groff and Aaron Goodwin, search for haunted locations both domestically and internationally. During their investigations, Zak and crew acquaint themselves with the general area; interview locals about the hauntings; and go face-to-face with the evil spirits who reportedly haunt these locations.

Country:
Genre:
The Partner
Marcus Lemonis, serial entrepreneur and host of CNBC's The Profit, has invested nearly $50 million dollars in different companies over the course of three seasons. And now, he's looking for the perfect partner to help him run it all.

Country:
Genre:
Dance Moms
Dance Moms is an American dance reality series that debuted on Lifetime on July 13, 2011. Created by Collins Avenue Productions, it is set in Pittsburgh, Pennsylvania, at the Abby Lee Dance Company, and follows children's early careers in dance show business, and their mothers. A spinoff series, Dance Moms: Miami, set in Miami at Victor Smalley and Angel Armas' dance studio, Stars Dance Studio, premiered on April 3, 2012, and was cancelled in September 2012 after eight episodes.
On October 10, 2012, Lifetime announced that they had picked up Dance Moms for a third season, consisting of 26 episodes, which debuted on January 1, 2013.

Country:
Genre:
Viva La Bam
Viva La Bam was an American reality television series that stars Bam Margera and his friends and family. The show was a spin-off from MTV's Jackass, in which Margera and most of the main cast had appeared. Each episode had a specific theme, mission, or challenge which was normally accomplished by performing pranks, skateboarding, and enlisting the help of friends, relations and experts. Although partly improvised, the show was supported by a greater degree of planning and organization.

Country:
Genre:
Project Runway: Fashion Startup
Aspiring fashion and beauty entrepreneurs pitch their concepts for the chance to secure funds from a panel of expert investors to help grow their budding ventures.

Country:
Genre:
Teen Mom
Teen Mom is an American reality television series which aired from December 8, 2009, until August 28, 2012, on MTV. It follows the lives of four girls from the first season of 16 and Pregnant as they navigate their first years of motherhood. The series also focuses on the themes of their changing relationships between family, friends, and boys, while highlighting the struggles teenage mothers have to go through to raise their children.
The series aired a total of four seasons. The pilot episode was the network's highest-rated premiere in over a year, with 2.1 million total viewers; the record was surpassed by the controversial series Skins, which had 3.26 million viewers. The first season finale brought in 3.6 million viewers. The second season finale pulled in over 5.6 million viewers, at which time a spin-off Teen Mom 2 was announced for January 11, 2011. The third season premiered on July 5, 2011, and the final season premiered on June 12, 2012.

Country:
Genre:
Black Ink Crew
Reality series chronicling the daily operations and staff drama at an African American-owned and operated tattoo shop in Harlem, New York.

Country:
Genre:
Cyrus vs. Cyrus: Design and Conquer
After years of perfecting their passion for interior design in their own homes, Tish and Brandi Cyrus take their talents to the streets of their hometown, Nashville, to share their skills with friends and word-of-mouth clients.

Country:
Genre:
Botched By Nature
They have fixed the unfixable and thought they'd seen it all. Dr. Terry Dubrow and Dr. Paul Nassif will travel across the country to change the lives of those who have been botched by genetics or traumatic incidents. This series follows the doctors' nation-wide pursuit as they seek to transform the lives of patients willing to share their powerful stories with the world, all while learning things they never thought they'd know about one another and deepening the bromance that fans have come to know and love.

Country:
Genre:
Catching Kelce
A dating competition series featuring football star Travis Kelce, who hopes to find true love among 50 eligible women, one representing each state in the U.S.

Country:
Genre:
Pawn Stars
Pawn Stars is an American reality television series, shown on History, and produced by Leftfield Pictures. The series is filmed in Las Vegas, Nevada, where it chronicles the daily activities at the World Famous Gold & Silver Pawn Shop, a 24-hour family business opened in 1989 and operated by patriarch Richard "Old Man" Harrison, his son Rick Harrison, Rick's son Corey "Big Hoss" Harrison, and Corey's childhood friend, Austin "Chumlee" Russell. The show, which became the network's highest rated show, and the No. 2 reality show behind Jersey Shore, debuted on July 26, 2009. Reruns can be seen on History as well as its sister network Lifetime, which added the show in December 2010.
The series depicts the staff's interactions with customers, who bring in a variety of artifacts to sell or pawn and who are shown haggling over the price and discussing its historical background, with narration provided by the Harrisons and occasionally Chumlee. The series also follows the interpersonal conflicts among the cast. One reviewer referencing these conflicts described the show as a version of Antiques Roadshow "hijacked by American Chopper's" Teutul family. TV Guide has offered a similar description, calling the show "one part Antiques Roadshow, a pinch of LA Ink and a dash of COPS".

Country:
Genre: