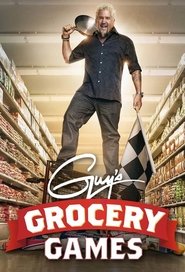 Guy's Grocery Games
Guy Fieri sends four talented chefs running through the aisles in a high stakes, high skills, grocery store cooking competition. The chefs are hit by real-world challenges like finding workarounds when all the essential ingredients are suddenly "out-of-stock" or having to create a masterpiece when you can only cook with "5 items or less" or on a $10 budget. In the end, the food does the talking, as the last chef standing has the chance to make some serious dough!
Episodes: 29
Status: Returning Series
Seasons: 5
All Episodes
You may also like
Strut
A group of transgender models try to make a name for themselves in the world of fashion.

Country:
Genre:
Catfish: The TV Show
Catfish: The TV Show is an American reality-based docudrama television series airing on MTV about the truths and lies of online dating. The series is based on the 2010 film Catfish and is hosted by Nev Schulman. It premiered on November 12, 2012, with the second season premiere on June 25, 2013.

Country:
Genre:
Jay Leno's Garage
Starting as a YouTube series in 2006 and making it's way to television in 2015 on CNBC, former host of "The Tonight Show" Jay Leno does car and motorcycle reviews on classic cars, super cars like the McLaren P1, restored cars, vintage and sports cars.
Jay Leno's Big Dog Garage is located in Burbank, California, near Bob Hope Airport. In 2011 the show won a Primetime Emmy Award for "Outstanding Special Class — Short-Format Nonfiction Program". It is distributed by NBC Entertainment's digital division.

Country:
Genre:
Growing Up Supermodel
A group of young models risk it all to live up to the careers of their famous parents.

Country:
Genre:
Love & Hip Hop: Atlanta
Love & Hip Hop: Atlanta is the Atlanta based spin-off of Love & Hip Hop. It premiered on June 18, 2012, on VH1 and chronicles the lives of several women who are involved with hip hop. The second season premiered on April 22, 2013, with new cast members: Atlanta DJ and radio personality Traci Steele plus DJ Babey Drew, Traci's ex and father of their son Little Drew.

Country:
Genre:
The Toy Box
Aspiring toy designers submit their inventions to a series of tests and a panel of kid judges as they compete to work with Mattel.

Country:
Genre:
Masters of Illusion
Hosted by actor Dean Cain, Masters of Illusion is with great escapes, fascinating sleight-of-hand and large scale illusions, all in front of a studio audience. The series features amazing magic performed by cutting-edge illusionists and escape artists, and performers in each episode display skills ranging from perplexing interactive mind magic to hilarious comedy routines. Live audience members and viewers at home will be baffled by the astounding skills of these modern illusionists.

Country:
Genre:
Hunted
American version of the reality show where contestants must evade skilled investigators during a nationwide manhunt.

Country:
Genre:
Bachelor in Paradise
Some of The Bachelor's biggest stars and villains are back. They all left The Bachelor or The Bachelorette with broken hearts, but now they know what it really takes to find love, and on Bachelor in Paradise they'll get a second chance to find their soul mates. Contestants will live together in an isolated romantic paradise in Mexico and we'll follow these former bachelors and bachelorettes as they explore new romantic relationships. America will watch as they fall in love or go through renewed heartbreak.

Country:
Genre:
Jack Whitehall: Travels With My Father
Comic Jack Whitehall invites his stodgy, unadventurous father to travel with him to odd locations and events in an attempt to strengthen their bond.

Country:
Genre:
American Beauty Star
12 competitors from all facets of the beauty industry are challenged to become the next American Beauty Star. Challenges include creating high-end magazine editorial looks and red carpet styles for a Hollywood premiere.

Country:
Genre:
Little Women: Atlanta
These new little ladies turn it up wherever they go, especially with club promoter Emily Fernandez leading the charge with identical twins, Andrea and Amanda Salinas, Bri Barlup, Ashley "Minnie" Ross and Tiffany "Monie" Cashette. The drama heats up with these friends as catfights erupt among their feisty personalities and power hierarchies. Like many friends, they deal with problems with their parents, fights over men and one little lady even has a baby on the way. When it comes down to it, this clique is not afraid to get into it with each other, but together they face the daily challenges that come with being a little person while proving they are the true queens of Atlanta.

Country:
Genre: