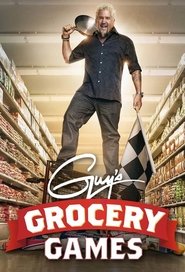 Guy's Grocery Games
Guy Fieri sends four talented chefs running through the aisles in a high stakes, high skills, grocery store cooking competition. The chefs are hit by real-world challenges like finding workarounds when all the essential ingredients are suddenly "out-of-stock" or having to create a masterpiece when you can only cook with "5 items or less" or on a $10 budget. In the end, the food does the talking, as the last chef standing has the chance to make some serious dough!
Episodes: 29
Status: Returning Series
Seasons: 5
All Episodes
You may also like
Southern Charm
New series "Southern Charm" goes behind the walls of Charleston, South Carolina's most aristocratic families to reveal a world of exclusivity, money and scandal that goes back generations. The fast-paced, drama-filled docu-series follows six Charleston singles, Craig Conover, Cameran Eubanks, Jenna King, Thomas Ravenel, Shepard "Shep" Rose, and Whitney Sudler-Smith, struggling with the constraints of this tight-knit, posh society. The cast, some descendants of Vice Presidents and four-term Senators, and others from "new money," is comprised of Southern bachelors who suffer from "Peter Pan Syndrome" by refusing to settle down; and the women in their lives who challenge them to grow up. Viewers will see them launch political careers, build businesses, break hearts, and chase true love — all while struggling to preserve their family names. Because in Charleston, you're only as good as your last garden party and one social screw-up can taint generations to come.

Country:
Genre:
Truth & Iliza
Comic Iliza Shlesinger hosts this late-night talk show that features episodes that revolve around particular themes, in the form of a question that Iliza tries to answer. She uses audience interaction, field pieces, commentary and — what she's best known for — jokes to help her find the answers she seeks. The weekly series focuses on discussing the sociopolitical issues of the day, whether they involve necessary discussions or more inane topics.

Country:
Genre:
The Bachelorette
A single bachelorette dates multiple men over several weeks, narrowing them down to hopefully find her true love.

Country:
Genre:
Hollywood Darlings
Pop's original comedy series turns the camera on real-life friends who are bonded by a sisterhood only they can share as former child stars who grew up in the '90s limelight: Jodie Sweetin (Full House, Fuller House), Christine Lakin (Step By Step) and Beverley Mitchell (7th Heaven). In this improvised comedy, the three actresses play exaggerated versions of themselves in their current Hollywood lives. With the support of one another, this girl squad can take on anything when it comes to parenting, marriage, friendship and revived careers in Hollywood.

Country:
Genre:
Judge Judy
Judge Judy is an American arbitration-based reality court show presided over by retired Manhattan Family Court Judge Judith Sheindlin. The show features Sheindlin adjudicating real-life small claims disputes within a simulated courtroom set. All parties involved must sign contracts, agreeing to arbitration under Sheindlin. The series is in first-run syndication and distributed by CBS Television Distribution.
Judge Judy, which premiered on September 16, 1996, reportedly revitalized the court show genre. Only two other arbitration-based reality court shows preceded it, The People's Court and Jones and Jury. Sheindlin has been credited with introducing the "tough" adjudicating approach into the judicial genre, which has led to several imitators. The two court shows that outnumber Judge Judy's seasons, The People's Court and Divorce Court, have both lasted via multiple lives of production and shifting arbiters, making Sheindlin's span as a television arbiter the longest.
By 2011, Judge Judy had been nominated 14 consecutive years for Daytime Emmy Awards without ever winning. On June 14, 2013, however, Judge Judy won its first Daytime Emmy for Outstanding Legal/Courtroom Program on its 15th nomination. It is the first long-running, highly-rated court show to win an Emmy.

Country:
Genre:
Viva La Bam
Viva La Bam was an American reality television series that stars Bam Margera and his friends and family. The show was a spin-off from MTV's Jackass, in which Margera and most of the main cast had appeared. Each episode had a specific theme, mission, or challenge which was normally accomplished by performing pranks, skateboarding, and enlisting the help of friends, relations and experts. Although partly improvised, the show was supported by a greater degree of planning and organization.

Country:
Genre:
Fight of the Living Dead
Live action game where famous and favourite Youtubers, fight for survival and try and make a cure and escape a massive Zombie apocalypse,

Country:
Genre:
Say Yes to the Dress
Welcome to the world's premier bridal salon, Kleinfeld Bridal. Part fashion show, part bridal story, part family therapy…Randy Fenoli & a team of specialists guide brides through the process of selecting, altering & delivering each dress in time for their perfect day.

Country:
Genre:
Gold Rush: White Water
Gold miners Dakota Fred and his son Dustin are back – returning to McKinley Creek Alaska, determined to make a fortune no matter the risk. But to find the big gold payout, they'll put their lives on the line by diving deep beneath the raging waters of one of Alaska's wildest creeks.

Country:
Genre:
Storage Wars
When rent is not paid on a storage locker for three months in California, the contents can be sold by an auctioneer as a single lot of items in the form of a cash-only auction. The show follows professional buyers who purchase the contents based only on a five-minute inspection of what they can see from the door when it is open. The goal is to turn a profit on the merchandise.

Country:
Genre:
Gold Rush: Parker's Trail
Not Available

Country:
Genre:
Jersey Shore
Jersey Shore is an American reality television series which ran on MTV from December 3, 2009 to December 20, 2012 in the United States. The series follows the lives of eight housemates spending their summer at the Jersey Shore in the U.S. state of New Jersey. Season 2 followed the cast escaping the cold northeast winter to Miami Beach, with Season 3 returning to the Jersey Shore. The fourth season, filmed in Italy, premiered on August 4, 2011. The show returned for a fifth season, at Seaside Heights on January 5, 2012. The fifth season finale aired on March 15, 2012. On March 19, 2012, MTV confirmed that the series would return for their sixth season. On August 30, 2012, MTV announced that the Jersey Shore would end after the sixth season, which premiered on October 4. The series finale aired on December 20, 2012.
The show debuted amid large amounts of controversy regarding the use of the words "Guido/Guidette," portrayals of Italian-American stereotypes, and scrutiny from locals because the cast members were not residents of the area.
The series garnered record ratings for MTV, making it the network's most viewed series telecast ever. The series' cast have also been credited with introducing unique lexicon and phrases into American popular culture.

Country:
Genre: