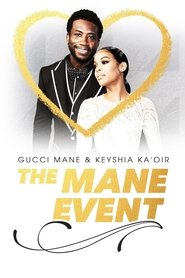 Gucci Mane & Keyshia Ka'oir: The Mane Event
Follows the twists and turns of the hip-hop power couple as they work to blend their families and defy the odds as they set to prepare for the most extravagant celebrity wedding of the year.
Episodes: 3
Status: Returning Series
Seasons: 1
All Episodes
You may also like
Keeping Up with the Kardashians
A peek inside the exploits and privileged private lives of the blended Kardashian-Jenner family, including sisters Kim, Kourtney and Khloé.

Country:
Genre:
The People's Couch
Bravo's The People's Couch is based on the UK show, Gogglebox, The People's Couch features real people watching and commenting on popular shows and news from the past week. The series will focus on the Fall television season by showcasing avid TV watchers in their homes, as they laugh, cry, talk, gasp, and scream at their TVs watching the network's new and returning shows. Each episode will feature the same homes — whether it is a group of sorority sisters doing their nails or grandparents watching with their technology-obsessed grandchildren.

Country:
Genre:
Southern Charm
New series "Southern Charm" goes behind the walls of Charleston, South Carolina's most aristocratic families to reveal a world of exclusivity, money and scandal that goes back generations. The fast-paced, drama-filled docu-series follows six Charleston singles, Craig Conover, Cameran Eubanks, Jenna King, Thomas Ravenel, Shepard "Shep" Rose, and Whitney Sudler-Smith, struggling with the constraints of this tight-knit, posh society. The cast, some descendants of Vice Presidents and four-term Senators, and others from "new money," is comprised of Southern bachelors who suffer from "Peter Pan Syndrome" by refusing to settle down; and the women in their lives who challenge them to grow up. Viewers will see them launch political careers, build businesses, break hearts, and chase true love — all while struggling to preserve their family names. Because in Charleston, you're only as good as your last garden party and one social screw-up can taint generations to come.

Country:
Genre:
Jep & Jessica: Growing the Dynasty
The continuing chronicles of the lives of Jep and Jessica Robertson and their five children.

Country:
Genre:
Hunted
American version of the reality show where contestants must evade skilled investigators during a nationwide manhunt.

Country:
Genre:
Fight of the Living Dead
Live action game where famous and favourite Youtubers, fight for survival and try and make a cure and escape a massive Zombie apocalypse,

Country:
Genre:
Nightwatch
Follow the men and women who keep the citizens of New Orleans safe during the night. Ride along with the police officers, the firefighters, and the paramedics as they tackle the evils of the night.

Country:
Genre:
Married at First Sight
Based on the hit Danish format, "Married at First Sight" is an extreme social experiment following six brave souls who are yearning for a life-long partnership as they agree to a provocative proposal: getting legally married the moment they first meet. Four specialists – sexologist, Dr. Logan Levkoff; spiritualist, Greg Epstein; psychologist, Dr. Joseph Cilona; and sociologist, Dr. Pepper Schwartz – will create what they believe are three perfect couples, based on scientific matchmaking. The couples will never meet or know each other until they walk down the aisle and see each other face to face, for the first time, when they get married. Each episode of "Married at First Sight" will follow the classic lifestyle stories of newlyweds – from the honeymoon to early nesting to other relatable events of married life. After several weeks together, each couple must make a decision: do they remain together or decide to separate?

Country:
Genre:
Top Chef
Top Chef is an American reality competition show on the cable television network Bravo, that first aired in 2006, in which chefs compete against each other in culinary challenges. They are judged by a panel of professional chefs and other notables from the food and wine industry with one or more contestants eliminated in each episode. The show is produced by Magical Elves Productions, the same company that created Project Runway.
Nine international adaptations of Top Chef have been produced, two of which, the Franco-Belgian Top Chef and the Dutch Topchef, have had four seasons each. In the United States, the show has had two spin-offs: Top Chef: Masters, featuring established, award-winning chefs, and Top Chef: Just Desserts, featuring pastry chefs. One more spin-off is planned: Top Chef Junior, featuring contestants in their early teens.
On May 10, 2013, it was announced that the upcoming eleventh season of the series will be set in New Orleans, Louisiana. It will premiere on October 2, 2013.

Country:
Genre:
Naked and Afraid XL
A group of the best survival experts in the world are taking on an un-survivable situation that has never been attempted before: 12 people. 40 days. 40 nights. No food. No water. No clothes. The ultimate trial of human endurance and will to survive. NAKED AND AFRAID XL is a 40 day challenge, making it exponentially more difficult than anything that's ever been tried in the past. Six women and six men, all extreme survivalists with their own expertise, find themselves stranded in a remote equatorial jungle of Colombia and this time, they will all be fighting for the same limited resources. All being inserted separately, how will these survivalists encounter and respond to each other? Will they band together as one large group or break apart into smaller groups to survive? These 12 survivalists have proven that they have physical and mental strength, endurance, intelligence, a fan

Country:
Genre:
The Real Housewives of Cheshire
The series steps inside the champagne fuelled lives of Ampika Pickston, Dawn Ward, Lauren Simon, Leanne Brown, Magali Gorré and Tanya Bardsley. Throughout the series we'll get to know these amazing characters and their intertwining lives. In the extreme world of Cheshire's rich and famous residents, life moves fast and each day has its dramas, ensuring every episode will be action packed and entertaining. All with the gorgeous backdrop of the lavish homes and the exclusive locations that these women live in. The Housewives' wealth and connections also mean that through them, you'll get unique access to the elite events and fabulous social occasions that punctuate the Housewives' extraordinary lives.

Country:
Genre:
Hollywood Darlings
Pop's original comedy series turns the camera on real-life friends who are bonded by a sisterhood only they can share as former child stars who grew up in the '90s limelight: Jodie Sweetin (Full House, Fuller House), Christine Lakin (Step By Step) and Beverley Mitchell (7th Heaven). In this improvised comedy, the three actresses play exaggerated versions of themselves in their current Hollywood lives. With the support of one another, this girl squad can take on anything when it comes to parenting, marriage, friendship and revived careers in Hollywood.

Country:
Genre: