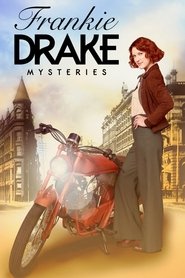 Frankie Drake Mysteries
Toronto's only female private detective in the 1920s takes on the cases the police don't want or can't handle.
Episodes: 8
Status: Returning Series
Seasons: 1
All Episodes
You may also like
Braquo
Braquo is a French crime drama television series created by Olivier Marchal and produced by Capa Drama with the participation of Canal+ in association with Marathon Group, Be-Films and RTBF. It was first broadcast in France from October 12 to November 2, 2009. The first season established a record of audience for an original production of the channel, and has surpassed that of many U.S. productions broadcast by the network. The second season started in Canal+ on November 21, 2011. A third and final season was announced by main actor Jean-Hugues Anglade in 2011.
The name of the series comes from the French "braquage" that describes armed robberies, particularly those committed on banks.

Country:
Genre:
GCB
Amanda Vaughn, once the ultimate high school "mean girl," is forced to return home in disgrace after her marriage ends in scandal. As Amanda and her teenage kids try to adjust to their new lives, the ladies from her past alternate between sympathy and scheming.

Country:
Genre:
The State
The experiences of four British men and women who leave their lives behind to join ISIS in Syria.

Country:
Genre:
The Halcyon
The story of a bustling and glamorous five star hotel at the centre of London society and a world at war.

Country:
Genre:
The Haves and the Have Nots
Tyler Perry's The Haves and the Have Nots is a new television drama from the prolific writer, director and producer Tyler Perry. The show follows the complicated dynamic between the rich and powerful Cryer family and the hired help who work in their opulent Savannah, Georgia, mansion.

Country:
Genre:
Major Crimes
Major Crimes explores how the American justice system approaches the art of the deals as law enforcement officers and prosecutors work together to score a conviction. Los Angeles Police Captain Sharon Raydor heads up a special squad within the LAPD that deals with high-profile or particularly sensitive crimes.

Country:
Genre:
Burn Notice
A formerly blacklisted spy uses his unique skills and training to help people in desperate situations.

Country:
Genre:
Marvel's Agents of S.H.I.E.L.D.
Agent Phil Coulson of S.H.I.E.L.D. (Strategic Homeland Intervention, Enforcement and Logistics Division) puts together a team of agents to investigate the new, the strange and the unknown around the globe, protecting the ordinary from the extraordinary.

Country:
Genre:
Columbo
Columbo is a friendly, verbose, disheveled-looking police detective who is consistently underestimated by his suspects. Despite his unprepossessing appearance and apparent absentmindedness, he shrewdly solves all of his cases and secures all evidence needed for indictment. His formidable eye for detail and meticulously dedicated approach often become clear to the killer only late in the storyline.

Country:
Genre:
Recovery Road
Maddie is a teenage girl dealing with addiction who has a reputation as a party girl who doesn't think she has a problem, until she's confronted one day by her school guidance counselor and is forced to choose between expulsion and rehab. Maddie makes the difficult decision to live with other recovering addicts at a sober living facility while facing the daily pressures of her teenage life. Based on the popular young adult novel by Blake Nelson.

Country:
Genre:
The Girlfriend Experience
Christine Reade is a second year student at Chicago-Burnham Law School and a new intern at the prestigious firm of Kirkland & Allen. Working hard to establish herself at the firm, her focus quickly shifts when a classmate introduces her to the world of transactional relationships. Known as GFEs, they are women who provide The Girlfriend Experience – emotional and sexual relationships at a very high price. Juggling two very different lives, Christine quickly finds herself drawn into the GFE world, attracted to the rush of control and intimacy.

Country:
Genre:
Vera
A sharp detective with a messy life, DCI Vera Stanhope patrols her "patch" of northeast England, pursuing the truth in cases of murder, kidnapping, and blackmail. Vera is obsessive about her work and faces the world with caustic wit, guile and courage.

Country:
Genre: