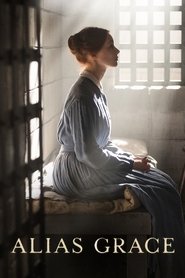 Alias Grace
Based on the true story of Grace Marks, a housemaid and immigrant from Ireland who was imprisoned in 1843, perhaps wrongly, for the murder of her employer Thomas Kinnear. Grace claims to have no memory of the murder yet the facts are irrefutable. A decade after, Dr. Simon Jordan tries to help Grace recall her past.
Episodes: 5
Status: Returning Series
Seasons: 1
All Episodes
You may also like
Tower Prep
Ian Archer wakes up one morning to find himself at a mysterious academy for teens with special abilities. Unable to find answers to his questions from the school's faculty and cut off from any kind of outside contact or means of escape, Ian forms a secret group with fellow suspicious students.

Country:
Genre:
Anne
A coming-of-age story about an outsider who, against all odds and numerous challenges, fights for love and acceptance and for her place in the world. The series centers on a young orphaned girl in the late 1890's, who, after an abusive childhood spent in orphanages and the homes of strangers, is mistakenly sent to live with an elderly spinster and her aging brother. Over time, 13-year-old Anne will transform their lives and eventually the small town in which they live with her unique spirit, fierce intellect and brilliant imagination.

Country:
Genre:
Saved by the Bell
Saved by the Bell is an American television sitcom that aired on NBC from 1989 to 1993. The series was a retool of the Disney Channel series Good Morning, Miss Bliss. The show follows the exploits of a group of friends and their principal, and although the series primarily showcases light-hearted comedic situations, it occasionally touches on serious social issues, such as drug use, driving under the influence, homelessness, divorce, death, and environmental issues. This made Saved by the Bell a precursor to later shows that introduce young audiences to critical moral dilemmas.
Saved by the Bell stars Mark-Paul Gosselaar, Dustin Diamond, Lark Voorhies, Dennis Haskins, Tiffani-Amber Thiessen, Elizabeth Berkley, and Mario Lopez.
Saved by the Bell was named one of the "20 Best School Shows of All Time" by AOL TV. The show's popularity spawned two spin-off series to follow: Saved by the Bell: The College Years, a prime time series that follows several of the original characters to college, and Saved by the Bell: The New Class, a Saturday morning series that follows a new group of students at Bayside High School. The series also spawned two TV movies and a short-lived comic book series. Saved by the Bell also aired in Australia on Channel Seven, and from 1990 until 2004 on Nickelodeon. Reruns have aired in local syndication and on MTV2.

Country:
Genre:
Lois & Clark: The New Adventures of Superman
Lois & Clark: The New Adventures of Superman is a live-action American television series based on the characters in Superman and Action. Lois & Clark starred Dean Cain as Superman/Clark Kent and Teri Hatcher as Lois Lane, and aired on ABC from September 12, 1993 to June 14, 1997.
Developed for television by Deborah Joy LeVine, the series loosely follows the philosophy of then-Superman writer John Byrne: Clark Kent is the true personality and Superman a disguise. As the show's title suggests, it focuses as much on the relationship between Clark Kent and Lois Lane as the adventures of Clark's alter-ego.
The series spawned several short tie-in books aimed at young adults and a full-length novel for adults, Lois & Clark: A Superman Novel, written by C. J. Cherryh. The show was shot entirely in California.

Country:
Genre:
Marvel's Luke Cage
Given superstrength and durability by a sabotaged experiment, a wrongly accused man escapes prison to become a superhero for hire.

Country:
Genre:
Fargo
A close-knit anthology series dealing with stories involving malice, violence and murder based in and around Minnesota.

Country:
Genre:
The Haves and the Have Nots
Tyler Perry's The Haves and the Have Nots is a new television drama from the prolific writer, director and producer Tyler Perry. The show follows the complicated dynamic between the rich and powerful Cryer family and the hired help who work in their opulent Savannah, Georgia, mansion.

Country:
Genre:
Greenhouse Academy
When teen siblings Hayley and Alex enter an elite boarding school, they find rivalry, romance and a mystery related to the recent loss of their mom.

Country:
Genre:
Freddy's Nightmares
Freddy's Nightmares is an American horror anthology series, which aired in syndication from October 1988 until March 1990. A spin-off from the Nightmare on Elm Street series, each story was introduced by Freddy Krueger. This format is essentially the same as that employed by Alfred Hitchcock Presents, Tales from the Crypt, or The Twilight Zone. The pilot episode was directed by Tobe Hooper, and begins with Freddy Krueger's acquittal of the child-murdering charges due to his officer's lack of reviewing the Miranda warning at the time of Freddy's arrest. A mob of parents eventually corners Freddy in a power plant, leading to him being torched by the police officer, dying and gaining his familiar visage.
The series was produced by New Line Television, producers of the film series. It was originally distributed by Lorimar-Telepictures. However, Warner Bros. Television would assume syndication rights after acquiring Lorimar-Telepictures.

Country:
Genre:
The Tomorrow People
The story of several young people from around the world who represent the next stage in human evolution, possessing special powers, including the ability to teleport and communicate with each other telepathically. Together they work to defeat the forces of evil.

Country:
Genre:
Guilt
When Natalie's sister Grace becomes the prime suspect in her roommate Molly's murder and popular target for the press and in social media, Natalie leaves her life in Boston and heads to London to defend her. With the help of an ethically questionable ex-pat lawyer Stan Gutterie, Natalie starts to question how innocent her sister may really be as more ugly truths start to come out.

Country:
Genre:
Nikita
Nikita will stop at nothing to expose and destroy Division, the secret U.S. agency who trained her as a spy and assassin.

Country:
Genre: